Agatha Aggy Brown-Docherty  is the youngest of seven children. She loves the attention of her siblings. She is played by Hebe And Zinnia Barnes And Alexandra Casteele.
Personality
Edit
*Aggy is a cute and sweet child, and will never be separated from her rattle that her mother left for her.
*Mostly, she loves her elder sister Tora looking after her.
Nanny McPhee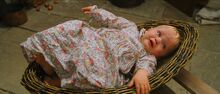 In the first film, Aggy is used by her siblings as part of an insidious prank to drive away their latest nanny (Nanny Whetstone) where it looks like they've eaten her when in fact it was a chicken wearing Aggy's clothes.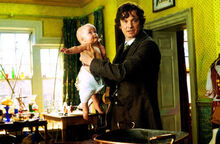 Later, the children subdue Mrs. Blatherwick as they cause all kinds of chaos in the kitchen. Nanny McPhee arrives and uses her magic to bring the unruly brood under control.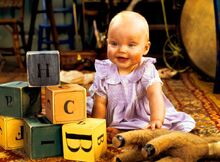 Later, under pressure from Aunt Adelaide, Cedric agrees to marry local widow, Selma Quickly.
On the day of the wedding, Selma cruelly snatches Aggy's rattle and snaps it in two. During the wedding, Aggy begins saying "Beehive" repeatedly, giving her brother, Simon, an idea. The children attempt to sabotage the wedding by buzzing like bees. The minister then reveals he is allergic to bees and knocks over a cake in an attempt to get away, thus hitting Selma.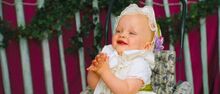 A food fight breaks out and Selma cancels the wedding and stomps off. In the end, Cedric marries Evangeline, his scullery maid, and Nanny McPhee restores Aggy's rattle before leaving.
Nanny McPhee and the Big BangEdit
Aggy appears in the second film as Mrs. Docherty, a partially blind elderly woman who runs a village shop who fills drawers with treacle.
She appears later in the film at a picnic with Nanny McPhee, the Green family, and her husband, a warden.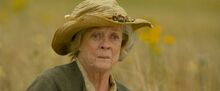 The picnic ends abruptly when Mrs. Green is handed a telegram by her brother-in-law Phil, telling her that her husband has been killed in action (it later turns out that the telegram was forged by Phil, who gambled away his brother`s farm, and was desperately trying to get Mrs. Green to sell the farm).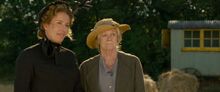 Mrs Docherty appears again during and after the bomb defusion scene, at which point she is shown to be familliar with Nanny McPhee, who refers to her as "Aggy". She then takes out her old rattle, establishing who she is, she and Nanny McPhee hugged, and she later reminded the Greens the way Nanny McPhee works; "When you need her but you don't want her, she has to stay. When you want her but you no longer need her, she has to go". Aggy then says she recalls this rule from when she was little.
"Poop bum". (First film)
"Beehive". (First film)
"Nanny McPhee doesn't like goodbyes, I remember from when I was little". (Second film)
So far, Aggy is the only character, aside from Nanny McPhee, to appear in both movies.